When we (Jen, my assistant, and I) went to a Publishing University (run by IBPA) in Austin, the first official event was a Breakfast sponsored by Epic!.    The speaker was Dr. Loriene Roy who gave a brief address about diversity in children's publishing.  She is Anishinabe, enrolled on the White Earth Reservation, and a member of the Minnesota Chippewa Tribe.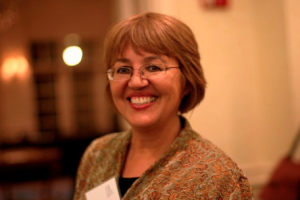 Even though Material Media LLC does not publish any children's titles as yet, I was interested in hearing this renowned librarian since she was a Native American.
Material Media just released an Earth Mass liturgy by John Philip Newell that arose not surprisingly from his Celtic spirituality roots but one shaped anew and deeply influenced by Native American spirituality (The Celtic Earth Mass is now titled Great Creating Spirit: A Celtic Earth Mass for the Celebration of Communion).  Both the leader's book and the congregational booklet feature a powerful illustration by Brenda Kingery, a member of the Chickasaw Nation.
Dr. Roy was gracious but firm in her conviction that diversity in children's literature is paramount in nurturing our hope for understanding, inclusivity and community. And as you can see in her picture, she has a smile that can light up a room. Good food, too at Hillside Farmacy.
Thank you Epic! for sponsoring this event.
Elizabeth