I love sharing the biblical stories that were given to me as a gift. There is nothing more important to me than teaching others how to read the Bible in order to be liberated, not enslaved by the Word. For as St. Paul said, "For freedom Christ has set us free." – Katerina Katsarka Whitley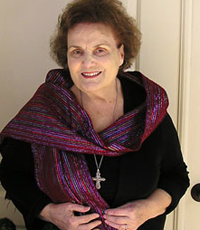 Born in Thessaloniki, Greece, Katerina Katsarka came to the U. S. at 16 years of age to enter college. Her education focused on music and English literature and later on theology. She married Rudy Whitley and together they were confirmed in the Episcopal Church. In the four decades of her involvement with the church, Katerina has worked as diocesan and national church journalist as writer, photographer, and editor. She is the author of five books of biblical monologues and one Greek cookbook. She has taught children and adults of all ages and continues her ministry in leading retreats and in speaking to churches. She has two daughters and four grandchildren. She lives in Louisville, KY.
Katerina is available to speak on a variety of topics, including:
The role of women in the Bible and dramatization of monologues. I am a great believer in drama as a powerful tool of communication and especially of retelling the biblical stories.
What was the century of Jesus and Paul like? Because of my research and writings on first century events and characters, I am convinced that telling the story in context is crucial to understanding the Bible.
Related to the above is the topic: How to read the Bible while learning when the books of the Bible were written.
Who was St. Paul? This aims to dispel the age-old mistakes in the interpretation of the great apostle.
So you want to write your own story? Katerina has been teaching and mentoring writers for many decades. A core group of writers she has mentored since 2007 boasts many now published writers.
Greek culture understood through food, mythology, and stories.
Please contact elizabeth@materialmedia.com to inquire about having Katerina come and speak at your event or workshop.
What others have to say about Katerina's workshops and talks:
"Hi Katerina, Thank you for coming to be with us at Church of the Holy Spirit!  You are such a rare gift and your presentations were absolutely wonderful!!  I wanted to copy to you these words that a parishioner emailed to me today:  "Inviting Katerina to do a monologue in the Lenten Series and at this Sunday's service was pure genius.  And, she is phenomenal.  Her gut wrenching portrayal of Mary at the Foot of the Cross really did take us into the soul of Mary…her struggles and her revelations.  What a gift to all of us present." David McNear – priest in the diocese of Western North Carolina after Katerina presented a Lenten program based on her book "Walking the Way of Sorrows".
"Katerina, I cannot tell you how much these weekends have soothed my spirit and helped me through during the hard times. This weekend rested me and renewed me and gave me a feeling of expectation for the coming year. I came home so mellow and inspired that I wrote a poem for my (new) blog on the way home. I am very excited about it….hope it will also keep me writing. Thank you so much…you have a special touch with everyone.  I don't know how you do it. Thank you again." – Tere Wagner
"In the magical mountain setting of the Valle Crucis Conference Center surrounded by bird song, a chanting stream, and a porch lined with wooden rockers, Katerina Whitley prompts those who feel the nudge to write to create rich self-expressions.  Presenting techniques for drawing out memory, detailing experience, describing a moment in time, Katerina evokes the poetic, humorous, nature-loving, storytelling, spiritually reflective responses that give shape to each writer's unique voice." – Marion Danforth, attendee of Valle Crucis Writers' Workshop