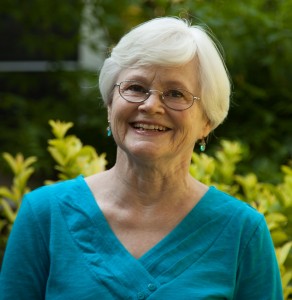 Mary C. Earle is an Episcopal priest, poet, author, spiritual director and retreat leader. Until her retirement, she taught classes in spirituality for the Seminary of the Southwest in Austin, Texas. Mary has authored nine books; the subjects include the spirituality of living with illness, rule of life, Celtic Christian spirituality, the Desert Mothers, and Julian of Norwich. Mary has offered presentations and retreats in a variety of ecumenical settings, including conferences of the Academy for Spiritual Formation, Spiritual Directors International, the International Thomas Merton Society and hospice organizations. She has written articles for a variety of journals, including Presence: the Journal of Spiritual Directors International, Radical Grace, Reflections, and The Lutheran. She was included in the Living Spiritual Teachers project of Spirituality and Practice.
She is available to speak on a variety of topics, including:
 Julian of Norwich—perspectives on her life and writing, and the teaching she offers us. Ways of prayer in times of suffering and disorientation. Writing as a form of enclosure and spiritual life
 Women mystics of the middle ages: how their lives and teachings speak to women today
 Women of scripture: taking closer looks at women's narratives in scripture and allowing those narratives to help us reflect on our own lives and journeys
 Celtic Christian spirituality—Celtic prayers as a way of praying all of life. Lives of Celtic saints as examples of faith, hope and love. Celtic blessings as pattern of blessing. Celtic perspectives on creation.
 The wonder of embodiment—developing attentive care for the life of the body, which is our life. Growing in gratefulness for our physicality. Practices for gratitude and kindly, gently receiving the gift of embodied life.
 The life of God and the life in aging—possibilities for meaning and beauty as we grow older
 Yoga and prayer. Perspectives on simple yoga practices and the beauty of our incarnate life. Yoga as means for receiving the blessing of our incarnate nature, and encountering the mystery of the Incarnation
 The challenges of living with illness, and ways to find meaning within the limitations imposed.
 Sabbath: patterns of renewal and rest that allow us to be replenish, restored and healed
 Rule of life: finding patterns and rhythms of prayer, work, leisure, study and outreach that are fruitful to persons and to communities.
 Benedictine spirituality. Wisdom from this ancient monastic rule, and from those who live it today. Connections with Episcopal life and practice and this monastic tradition.
 Praying the hours: discovering the pattern of "fixed hour prayer" and its benefits in helping us grow in awareness of divine presence and guidance in daily life. History of the practice, and present day application.
Please contact Mary directly at Mcearle48@gmail.com to inquire about having her come and speak at your event.